29 Jahre Sneak am 30. Oktober 2023
(Durch Klicken auf die Fotos öffnet sich eine größere Version)
Zum 29. Jahrestag der ersten traditionellen, englischsprachigen Sneak Preview in Hamburg war mal wieder Feiern angesagt; als erstes wurde der Gong des Vorprogamms durch eine etwas längere Version ersetzt, die im Schnelldurchlauf die knapp 1400 dokumentierten Sneakfilme der letzten 29 Jahre präsentierte:
Danach ging die Trailershow so richtig los und bot neben zwei indirekten Hinweisen auf den Hauptfilm noch den etwas auführlicheren Rückblick auf die Sneakfilme aus dem 29. Jahr, sortiert nach den Zuschauerbewertungen. Dabei schnitt der letztjährige Geburtstagsfilm "Mrs. Harris Goes to Paris" deutlich besser (Platz 19 statt 45) ab als "Annette" im Vorjahr. Hier ist das ganze Jahr 29 der Sneak im Video:
Nach dem Vorprogramm begrüßten dann Roughale, emma und meine Wenigkeit in Schale geworfen beziehungsweise (als "Barbenheimer") verkleidet die erneut etwa 150 erschienen Gäste.
Von mir gab es dann ein paar kurze Highlights aus dem ersten Halbjahr 2023 des Guess the Film!-Tippspiels, das sich weiter erholt hatte. Mit etwa 38 Tipps pro Woche war das Vor-Corona-Beteiligungsniveau fast wieder erreicht, und trotz acht "Fahrkarten" (bei denen niemand richtig getippt hatte) stieg auch die Quote der richtigen Tipps leicht an. Die besten Mitspieler waren diesmal allesamt Mitspielerinnen. Zwei der drei Damen waren auch vor Ort zugegen, nur die Drittplazierte Mairim absolviert gerade ein Auslandssemester und wurde von Zoe (im Bild rechts)vertreten. Alle drei, also auch die Zweitplazierte Segel560 (Mitte) und Letthesunshinein (links), die ihren Titel verteidigen konnte und zur Sommer-Tippkönigin 2023 gekürt wurde, erhielten natürlich die traditionelle Medaille in Bronze, Silber oder Gold.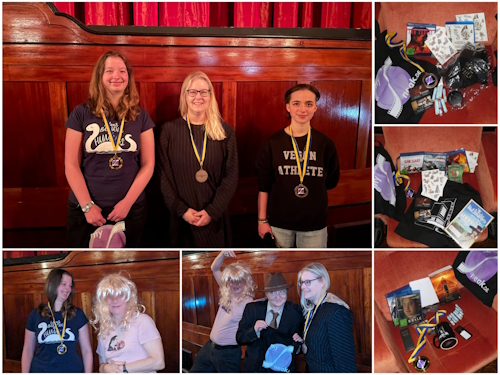 Darüberhinaus hatte das Kino kleine Preispakete zusammengestellt, die Freikarten, Gutscheine, BluRays, Bücher sowie andere Fanartikeln zu Film und Kino enthielten. Die Tippkönigin erhielt darüberhinaus auch noch zwei Gutscheine von der Brooklyn Burger Bar am Alten Fischmarkt hinter dem Kino. Wir bedanken uns bei den Kollegen vom Kino, von den Lochmann-Filmtheaterbetrieben sowie bei der Brooklyn Burger Bar ganz herzlich für die nette Unterstützung!
geschrieben von
Kasi Mir

, Letzte Änderung am 03.11.2022, 19:09