Season ticket day: Sep 19th!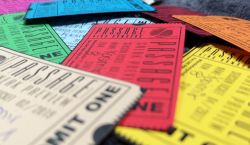 Tickets Tickets Tickets...
English:
As we are quickly approaching the autumn, it's time to once again talk about the Season Tickets which will expire with Sneak #1386 on September 26th. This time, the cinema will offer one Monday - September 19th - to officially purchase and/or extend the Season Tickets for the final quarter of 2022; should you not be able to make it to the cinema that day, please contact Jana at the ticket counter on one of the Monday evenings before that date; she will happily be of assistance. ;-)
The Q4 season tickets will be valid from October 10th to December 26th, thus covering twelve sneaks. The October 3rd preview will once again be moved upstairs (due to the Filmfest Hamburg) to the "Hanse" auditorium, and tickets need to be purchased separately for that date, Season tickets will not be valid. On September 19th, the tickets will be sold starting at 7:30 p.m. and will cost €72,- thus giving you the usual 50-cent per sneak discount.
---
Deutsch:
Der Herbst steht vor der Tür; da ist es an der Zeit, mal wieder über die Abo-Karten für die Sneak zu sprechen. Dieses Mal wird das Kino die Tickets an einem offiziellen Verkaufstag - dem 19. September anbieten; wer an diesem Tag nicht zur Sneak kommen kann, aber eine Abokarte erwerben oder verlängern möchte, der soll sich bitte an einem der Montagabende vor diesem Termin an Jana an der Kinokasse wenden; sie wird Euch dann gerne behilflich sein. ;-)
Die Abo-Karten für das Q4/2022 werden vom 10. Oktober bis zum 26. Dezember - also für zwölf Sneaks - gültig sein; die Preview am 3. Oktober wird aufgrund des Filmfests Hamburg wieder treppauf im "Hanse"-Saal stattfinden. Für diese Sneak sind daher die Abokarten ungültig, darum denkt bitte daran, Euch separat Tickets für diese Sneak zu beschaffen. Die Abokarten werden am 19.9. dann ab 19:30 Uhr verkauft werden; sie kosten diesmal €72,- und bieten damit den üblichen Rabatt von 50 Cent pro Sneak.
geschrieben von
Kasi Mir

am 31.08.2022, 17:55