Q2 Season tickets on Mar 21st/28th!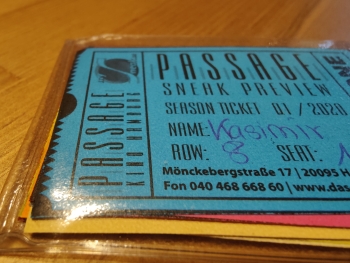 Hello ticket, my old friend ...
English:
With the current (and prospective) ease of Covid regulations, the Passage Kino and the Sneak Team feel confident enough that the time has finally come to restart the sale of Season Tickets. Consequently, on March 21st and March 28th, you'll be able to book your favorite seat (if available) for the first time in two years. The Season Ticket for the 13 sneaks from April 4th to June 27th will once again cost €78,- which is a discount of 50 Cents per Sneak. The ticket sale (which will be handled by Jana at the ticket counter, as before the pandemic) will start at 7:30 p.m. on both Mondays. We are happy that the sale can finally start again, and hope for a high demand.
---
Deutsch:
Mit den aktuellen (und erwarteten) Erleichterungen in Sachen Corona sind das Passage-Kino und das Sneak Team zu dem Schluß gekommen, daß es an der Zeit ist, die Abokarten endlich wieder anzubieten. Folgerichtig geht es nun am 21. und 28. März wieder los, wo Ihr die Gelegenheit erhalten werdet, Euren Lieblingsplatz (soweit verfügar) zum ersten Mal in zwei Jahren wieder für ein ganzes Quartal im Voraus zu erwerben. Die Abokarte für die 13 Sneak vom 4. April bis 27. Juni wird wie bisher €78,- kosten, also einen Rabatt von 50 Cent pro Sneak bieten. Der Verkauf wird an beiden Tagen - wie vor der Pandemie - von Jana an der Theaterkasse des Passage-Kinos abgewickelt werden und jeweils um 19:30 Uhr starten. Wir sind glücklich, daß es endlich wieder mit den Abokarten losgehen kann und hoffen auf einen großen Zuspruch von Eurer Seite.
geschrieben von
Kasi Mir

am 09.03.2022, 12:12