From Sep 2nd: access only for vaccinated and recovered guests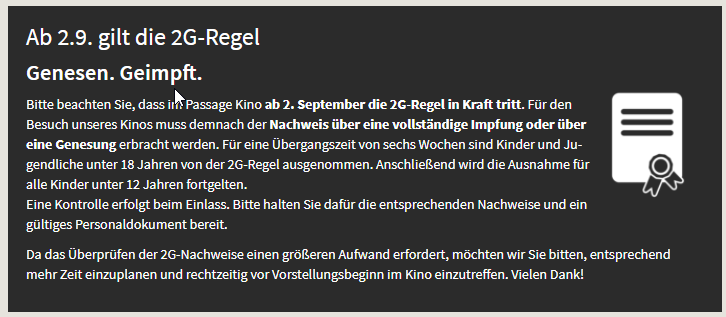 No more tests permitted
English:
Starting September 2nd, the Passage-Kino will become a "2G option" establishment, which means that people who aren't fully vaccinated or have recovered from a Corona infection no longer will be able to enter the premises. This of course, also applies to the Sneak Preview; you will need to present your certificate along with a valid identification document.
Deutsch:
Ab dem 2. September wechselt das Passage-Kino auf das sogenannte 2G-Optionsmodell und läßt damit nur noch vollständig geimpfte und genesene Personen mit einer entsprechenden Bescheinigung ins Haus; ein Schnell- oder PCR-Test gestattet dann nicht mehr den Zutritt zu Foyer und Sälen. Dies gilt natürlich auch für die Sneak Preview; bringt also bitte ab nächster Woche Euer entsprechendes Zertifikat (und ein Ausweisdokument) mit.
Hier noch das Statement des Passage-Kinos zu dieser Maßnahme im Wortlaut:
Das Passage hat in allen anderen Veranstaltungen eher älteres Publikum die schon geimpft sind. Der Anteil von Getesteten unter unserer Gästen liegt weit unter 5%. Wir stoßen bereits an den Wochenenden mehrfach an unsere Kapazitätsgrenzen, die durch das Schachbrettmuster auferlegt sind. Das Passage ist ein wirtschaftlich arbeitendes Kino, das seinen Sitz am zentralsten und damit einem der teuersten Orte Hamburgs hat. Mit der Schachbrettmusterbelegung ist ein wirtschaftliches und damit existenzsicherndes Arbeiten nicht weiter möglich. Aus diesem Grund ist dieser Schritt leider unabdingbar. Wir hoffen auf Euer Verständnis.
geschrieben von
Kasi Mir

am 30.08.2021, 18:13