Sneak upstairs on September 30th!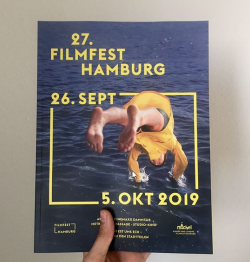 Festival time ...
(Foto: © Filmfest Hamburg)
English: Once again, the Filmfest Hamburg forces us to move the sneak upstairs into the Hanse auditorium for Monday, September 30th. Please note that the season tickets will not be valid for that monday; everyone has to buy a normal ticket which will go on sale (at the ticket counter of the Passage as well as online) on Monday, September 23th, at approx. 7p.m. So, don't forget to buy a ticket, so that we'll see us all upstairs on September 30th!
---
Deutsch: Das Filmfest Hamburg steht kurz bevor und blockiert für zehn Tage den großen Saal im Passage-Kino; daher muß die Sneak am 30. September wie in den Vorjahren wieder in den Hanse-Saal im Obergeschoß ausweichen. Wichtig: für diese Sneak gelten die Abokarten nicht! Auch Abokarten-Inhaber müssen also für den 30.09. ein separates, normales Ticket erwerben; der Vorverkauf startet am 23.09. um ca. 19 Uhr sowohl an der Kinokasse als auch online. Also, vergeßt nicht, Eure Karte für den 30.09. zu kaufen, damit wir uns alle im Hanse-Saal wiedersehen können!
geschrieben von
Kasi Mir

am 17.09.2019, 21:10