Q4/2019 season tickets on sale Sep 16th & 23rd!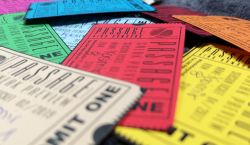 The final season tickets of 2019 ...
English: It's been exactly three months since the famous sneak season tickets last went on sale - high time for an encore. If you would like to have a 50 cent discount on all sneaks from October 7th (Sneak #1290) to December 30th (#1302) - and have your favorite seat guaranteed - then you can buy a season ticket for the fourth and final quarter of 2019 on September 16th or 23rd. On both mondays, Jana will open the season ticket counter at 7:30 p.m. and sell those colourful cards (while supplies last) to anyone shelling out the usual €78,-.
---
Deutsch: Es ist schon wieder drei Monate her, daß die Abokartenkasse des Passage-Kino zuletzt geöffnet hatte - da wird es höchste Zeit für einen neuen Anlauf. Wer sich also (auch) im Herbstquartal vom 7. Oktober (Sneak #1290) bis 30. Dezember (#1302) seinen Lieblingsplatz sichern und einen Rabatt von 50 Cent pro Sneak genießen möchte, der sollte sich den 16. und 23. September vormerken. An beiden Montagen offnet Jana die Abokarten-Kasse um 19:30 Uhr und verkauft schöne, bunte Abokarten als Sneakveteranen und Neuinsteressenten zum üblichen Preis von €78,-, solange der Vorrat reicht.
geschrieben von
Kasi Mir

am 03.09.2019, 22:22