Q1/2019 season tickets on sale December 10th & 17th!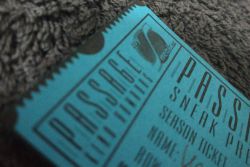 Pleasure, little Treasure ...
English: As the Holiday season approaches, it's also time to think about season tickets again! If you want to extend your season ticket for January till March 2019 - or if you don't yet own a season season ticket, but would like to get one - you can do so on December 10th and 17th. On both mondays, Jana will open the season ticket counter at 7:30 p.m. and will accept both renewals and new requests (while supplies last.) The price is €72,- for all 12 sneaks from January 7th to March 25th (a 50-cent discount for each sneak).
---
Deutsch: Es weihnachtet sehr, und der Dezember ist nicht nur die Zeit für Glühwein und Dominosteine, sondern auch für die Sneak-Abokarten für das erste Quartal 2019. Wenn Ihr Eure Abokarte (und Euren Platz) auch im Januar, Februar und März 2019 behalten wollt - oder ihr noch keine Abokarte besitzt, das aber gerne ändern würdet - dann markiert Euch den 10. und 17. Dezember in Euren Kalendern. An beiden Montagen öffnet Jana um 19:30 die Abokarten-Kasse und nimmt sowohl Verlängerungen als auch Neuerwerb-Wünsche (solange der Vorrat reicht) entgegen. Die Karten kosten diesmal €72,- für die 12 Sneaks vom 7. Januar bis 25. März (also 50 Cent pro Woche weniger als reguläre Tickets).
geschrieben von
Kasi Mir

am 27.11.2018, 20:35