Q4/2018 season tickets on sale September 10th & 17th!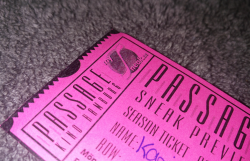 My precious ...
English: After the summer that never seemed to end, it's almost time to enter the fall season, which means another season ticket sale is nigh. If you want to extend your season ticket for October till December 2018 - or if you don't yet own a season season ticket, but would like to get one - you can do so on September 10th and 17th. On both mondays, Jana will open the season ticket counter at 7:30 p.m. and will accept both renewals and new requests (while supplies last.) The price is €78,- for all 13 sneaks from October 8th to December 30th (a 50 cent discount for each sneak). Please note that the last two sneaks of the year will take place on a Sunday (Dec 23rd/30th) instead of the usual Monday.
---
Deutsch: Nach dem Sommer, der nicht enden wollte, geht es nun mit Riesenschirtten auf den Herbst zu - und damit auch auf einen neuen Abokarten-Verkauf. Wenn Ihr Eure Abokarte (und Euren Platz) auch im Oktober, November und Dezember behalten wollt - oder ihr noch keine Abokarte besitzt, das aber gerne ändern würdet - dann markiert Euch den 10. und 17. September in Euren Kalendern. An beiden Montagen öffnet Jana um 19:30 die Abokarten-Kasse und nimmt sowohl Verlängerungen als auch Neuerwerb-Wünsche (solange der Vorrat reicht) entgegen. Die Karten kosten wieder €78,- für die 13 Sneaks vom 8. Oktober bis 30. Dezember (also 50 Cent pro Woche weniger als reguläre Tickets). Bitte beachtet dabei, daß in diesem Jahr die letzten beiden Sneaks nicht an einem Montag, sondern an einem Sonntag (23./30.12.) stattfinden werden.
geschrieben von
Kasi Mir

am 29.08.2018, 21:25