Q3/2018 season tickets on sale June 11th & 18th!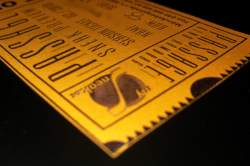 Shiny happy tickets ...
English: Just before summer is upon us, it's time to once again remember that the current quarter is already nearing its end. Consequently, there will soon be two Mondays on which you can renew your current season ticket for the third quarter of 2018 (July, August, and September) and also buy a new one if you're interested. On June 11th and 18th, Jana will open the season ticket counter starting at 7:30 p.m and will accept both renewals and new requests (while supplies last.) The price hasn't changed: €78,- for 13 sneaks (i.e., a 50 cent discount per sneak).
---
Deutsch: Manche Leute behaupten, der Sommer sei schon da - tatsächlich steht er uns astronomisch wie meteorologisch noch bevor. Ebenfalls in der nahen Zukunft sehe ich eine Abokartenverlängerung - am 11. und 18. Juni können sowohl aktuelle Karteninhaber als auch Neuinteressenten (solange der Vorrat reicht) eine Abokarte für die Sneaks im Sommerquartal (Juli, August und September) erwerben. Jana öffnet an beiden Tagen die Abokartenkasse um 19:30 Uhr; die Tickets kosten wieder den üblichen Preis von €78,- für 13 Sneaks (also 50 Cent pro Sneak weniger als Einzelkarten.)
geschrieben von
Kasi Mir

am 29.05.2018, 19:55